About WRM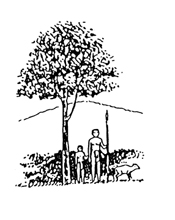 What is the World Rainforest Movement?
The World Rainforest Movement (WRM) is an initiative set up in 1986 by a group of activists from different countries to facilitate, support and reinforce the struggle against deforestation and land grabbing in countries with forests and forest-dependent communities. WRM was also created to expose how international initiatives and policies presented as solutions to halt or reverse deforestation were failing to conserve forests and attend the demands of forest peoples; and we can say they continue to fail. Another important reason to set up WRM was to expose the fact that in such international initiatives communities who depend on forests are often wrongly blamed to be the ones mainly responsible for deforestation.
What WRM has learned from forest-dependent communities in Africa, Asia and Latin America is that where these communities live and whenever their collective rights are respected, forests have the best chance to be conserved. However, this is still not the case in the big majority of places. WRM's main activity therefore is to support struggles of indigenous peoples, and traditional and peasant communities for the recognition and respect of their role in and practices of forest conservation, as well as to guarantee their collective rights over their territories. For WRM, it is important to highlight the role of women in such struggles, not only because of the specific relation they have with forests and the differentiated and usually harder impacts they suffer from deforestation, but also because of their crucial participation in organizing collective resistance.
WRM carries out its activities through an international secretariat with an office based in Uruguay, Latin America. The international secretariat team receives input and guidance for its activities from the WRM Advisory Committee; from the biannual WRM strategy meetings in which a number of WRM allies from different continents participate; and also from the regular interaction between the team and hundreds of community organizations, social movements, NGOs and indigenous peoples organizations in countries in Africa, Asia and Latin America.
WRM´s core activities include:
– To support struggles of forest-dependent peoples against deforestation and to secure their territories.
– To analyze the direct and underlying causes of deforestation.
– To critically assess "solutions" to the forest and climate crises that are presented in official processes at the international level.
– To disseminate the results of its analysis and research across its network so that it becomes accessible to a broad array of local organizations and communities. The WRM website and WRM's electronic bulletin are available in four languages (English, French, Spanish and Portuguese). Additional information including booklets and briefings, videos, among others, complement the information shared through WRM's bulletin. Most of this information is also available in several languages.
WRM's analysis, research, support and facilitation work are guided by its commitment to the right of forest-dependent peoples and populations to self-determination, which includes exercising collective rights over their territory, their cultures and ways of life.
We define territories not just as physical spaces or land only, but as the totality of relations, customary rules, animals, plants, human and spiritual beings and all their components that permit the buen vivir and the reproduction of life and cultures. With its work, WRM aims to contribute to their struggles, reflections and political actions.
Some historical background on WRM work and initiatives
When the WRM was established in 1986, it initially focused on exposing the flaws in the FAO (Food and Agriculture Organisation of the United Nations) and World Bank's "Tropical Forestry Action Plan" as well as countering the excesses of the tropical timber trade and the problems of the ITTO (International Tropical Timber Organization).
By the end of the 1990s, the WRM was part of the Global Secretariat of the Joint Civil Society Initiative called Addressing the Underlying Causes of Deforestation and Forest Degradation. This initiative was carried out in close coordination with the Secretariat of the UN's Intergovernmental Forum on Forests (IFF). In spite of the thorough analysis made by this Initiative, governments and international institutions have shown little interest in follow-up on the results or integrating the lessons from this joint government-civil society analysis on the underlying causes of forest loss. Meaningful governmental action that would be capable of addressing these causes remains largely absent. Therefore, highlighting the direct and underlying causes of deforestation continues to be one of the important tasks of the WRM.
In 1998, the WRM published the "Montevideo Declaration" and launched its international campaign against monoculture tree plantations (including plantations for pulpwood, rubber and palm oil as well as plantations for bioenergy and carbon sequestration) that are increasingly being promoted, particularly in the global South. These plantations, falsely defined as "planted forests" in the FAO definition of forests, are resulting in a number of negative social and environmental impacts on local communities. This campaign aims at generating awareness about and organizing opposition to this type of business. WRM also demands that FAO reviews its forest definition and officially recognizes that plantations are not forests.
Since 2006, WRM celebrates September 21st as International Day of Struggle against Tree Monocultures, a day that was created in Brazil by the Alert against the Green Desert Network. The aims of a specific day of struggle against tree monocultures are to strengthen local struggles against monoculture tree plantations and raise awareness about the negative impacts of these plantations around the world.
Struggles of forest-dependent communities have for a long time been mostly struggles against direct threats to their territories and livelihoods such as the imposition of national parks, industrial logging, dams and other large infrastructural works, oil, gas and mining, industrial tree plantations, shrimp farms and agribusiness expansion. Since the end of the 1990s, however, new trends have added new threats of a different nature. These new trends include forest carbon or REDD+ projects and, more in general, plans and projects that promote the payment and trade in ecosystem services, opening the door for new ways of actors outside the communities taking control of forest areas away from communities. One new aspect is that communities can lose control over their territories even if their land ownership is recognized because a part of the forest can be traded as 'ecosystem service' credit on financial markets. WRM has been working on these threats promoted under the so-called Green Economy, which promises economic development while solving simultaneously the climate and other environmental crises. WRM aims to learn about these trends in order to understand and expose the impacts of these types of projects on communities and territories as well as to widely disseminate such information in an accessible way to our network of community organizations and other interested groups and contacts.
South-South exchange, international networking and movement building
WRM seeks to support South-South exchange, international networking and movement building, interacting with NGOs, social movements, communities and activists, both on specific forest-related issues as well as on more general demands. These activities are aimed at building a strong alliance for environmental and social justice in general.
One such example of international articulation was the gathering co-organized by WRM in 2013 on the new trend of industrial oil palm expansion in Africa. The meeting facilitated exchange and networking among a number of African NGOs and participants from communities and social movements, including Indonesian activists with a longstanding experience in suffering the impacts of industrial oil palm plantations and building resistance. The meeting has resulted in increased exchange among participants following the meeting and joint activities to support communities in their opposition to expansion of industrial oil palm plantations. Moreover, WRM has also been participating in international civil society initiatives organized by existing networks and social movements. A recent example is WRM's active participation in the preparation and realization of the Peoples Summit during the Rio+20 conference in 2012. WRM is also a member of the Global Campaign against Corporate Power, launched in 2012 during the Rio+20 conference.
The International Secretariat team, responsible for implementing the WRM activities, is composed of Elizabeth Diaz, Teresa Perez, Flavio Pazos, Isabel Trivelli, Jutta Kill,  Joanna Cabello and Winnie Overbeek, the latter being also the international coordinator of the WRM.
Contact:
WRM International Secretariat
Avenida General María Paz 1615, office 3 – 11400
Montevideo – Uruguay
Tel and Fax: +598 2605 69 43
E-mail: wrm@wrm.org.uy
Facebook: www.facebook.com/WorldRainforestMovement
Twitter: https://twitter.com/WorldRainforest
WRM Advisory committee
 Yvonne Yanez – Acción Ecológica (Ecuador)
Larry Lohmann – The Corner House (United Kingdom)
Premrudee Daoroung – TERRA (Thailand)
Hendro Sangkoyo – School of Democratic Economics (Indonesia)
Godwin Ojo – Environmental Rights Action/Friends of the Earth Nigeria (Nigeria)
Tom Goldtooth – Indigenous Environmental Network (USA)
Silvia Ribeiro – ETC Group (México)
Shalmali Guttal – Focus on the Global South (Thailand)
Funding
Supporting organizations of the work and activities carried out by the WRM International Secretariat in 2014 were SSNC (Sweden), Siemenpuu Foundation (Finland), MISEREOR (Germany), and Stiftung Umverteilen (Germany).
Stichting World Rainforest Movement (WRM) is a Dutch foundation registered at the Dutch Chamber of Commerce since 1999 under number 34118798 and at the Dutch Tax Administration under fiscal number NL810078429B01. WRM   has been granted the ANBI-status by the Dutch Tax Administration. The abbreviation stands for "Algemeen Nut Beogende Instellingen" and the status is granted to organisations whose mission and activities are deemed by the Tax Service overwhelmingly to serve the Common Good. If you live in the Netherlands, the advantage of donating to an institution with the  ANBI-status is that you can deduct your gift from your taxable income, according to the rules of the Dutch tax administration (see here)
If you want to make a gift and need a certificate of the WRM ANBI-status, please get in touch with us by email (wrm(at)wrm.org.uy)
Annual Reports