A new documentary: "The exploitation of primary forests: Can an ecolabel stop the forest industry?"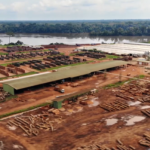 A new documentary, produced by the European channel Arte, shows how the FSC certification of forests and industrial tree plantations looks like on the ground and whether it protects the forests and the rights of indigenous peoples and local communities. Once again, the results are devastating for FSC. The documentary concludes that over the past 25 years of its existence the FSC label has failed even to slow down the forest industry and concludes "we can only save the rainforest with legislation, not with labels." The documentary is available in French, Spanish and German. FSC Watch, the website that provides information on the FSC certification failures, has produced additional information on the same country cases highlighted in the film, they are much recommended.
The documentary and the articles can be accessed here.
Search
WRM
WRM Bulletin
Subscribe
WRM ISSUES
Publications
Browse
Twitter
Facebook