Rocky Road. How legal failings and vested interests behind Peru's Purús highway threaten the Amazon and its people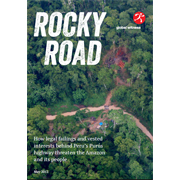 By Global Witness, May 2013.
This report examines a range of factors that Global Witness believes may be unduly influencing the decision-making  around the highway project, including alleged corruption and possible conflicts of interest.
Download in pdf format:
Rocky Road. How legal failings and vested interests behind Peru's Purús highway threaten the Amazon and its people
Search
WRM
WRM Bulletin
Subscribe
WRM ISSUES
Publications
Browse
Twitter
Facebook