(Bahasa Indonesia) "Naga-Naga Kertas : Perusahaan dan Kreditor Industri Kayu di Indonesia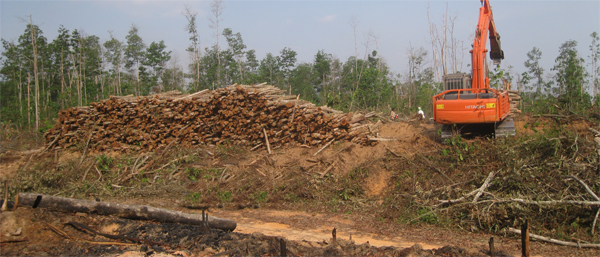 Kemunculan Para "Naga Kertas"
Dunia bisnis di Indonesia mengenal istilah 'Naga' sebagai sebuah representasi dari simbol kesuksesan dan keagungan kerajaan bisnis keluarga atau grup bisnis secara umum. Istilah ini dulunya amat popular di periode akhir rezim Soeharto, yang membantu beberapa raksasa bisnis terintegrasi vertical dengan penguasaa sumber daya alam untuk muncul ke permukaan, antara lain Grup Sinar Mas, Grup Radja Garuda Mas, Grup Barito Pacific, Grup Kalimanis , Grup Astra, Grup Salim, Grup Lippo. Hampir semua grup ini menjalankan bisnis berbasis penguasaan lahan dalam skala besar, termasuk perkebunan kayu monokultur, atau yang dikenal dengan istilah Hutan Tanaman Industri (HTI).
Ketika HTI atau perkebunan kayu sebagai model pengelolaan hutan diperkenalkan pada 1980-an, ia digadang-gadang sebagai sebuah bisnis model yang akan memulihkan hutan terdegradasi akibat konsesi penebangan (Hak Pengusahaan Hutan). Namun realitas lapangan menunjukkan bahwa jzin penanaman kayu diberikan pada area bekas-HPH yang masih berisi kayu-kayu bervolume besar – yang siap untuk di tebang kapanpun dalam skema baru. Selama bertahun-tahun, realisasi penanaman rerata tidak pernah melampaui angka 50% dari angka wajib tanam berdasarkan izin resmi yang dikerluarkan.
Dari semua 'Naga', hanya sebagian yang terlibat dalam bisnis kayu, yakni Grup Sinar Mas Group, Grup Radja Garuda Mas, Kiani Kertas, Barito Pasifik dan Grup Kalimanis. Grup lainnya tidak sebesar nama-nama yang baru disebutkan. Grup Sinar Mas dan Grup Radja Garuda Mas mendirikan divisi khusus untuk menjalankan bisnis. Grup sinar Mas diketahui memiliki Sinar Mas Forestry (SMF) untuk memimpin bisnis perkebunan kayunya dan Asia Pulp and Paper (APP) untuk mengelola pabriknya. Grup Radja Garuda Mas dikenal dengan APRIL dan RAPPnya. Grup Barito Pasifik juga masyhur dengan konsesi HTI-nya, PT IFA dan PT Tanjung Enim Lestari (PT TEL), yang dikethaui berkolaborasi dengan Korporasi Marubeni dan Nippon Paper dalam bisnis industri kertas di Provinsi Sumatera Selatan.
Selain mendapatkan sokongan rezim Soeharto, terutama melalui kemudahan perizinan, dana reforestasi dan alokasi konsesi 'Hutan Kayu', para naga bisnis sektor perkebunan kayu ini dibeking oleh puluhan penyandang dana Eropa seperti Nordea (Denmark / Swedia) , Bankgesellschaft Berlin, Bayerissche Landesbank, IKB Deutsche Industriebank, Norddeutsche Landesbank (semua dari Jerman), Credit Suisse (Swiss), ING, Fortis, Rabobank, ABN Amro (semua dari Belanda) dan Barclays (Inggris). Dukungan itu juga diberikan oleh Agensi kredit Ekspor (ECA) seperti Hermes Jerman. Bank Dunia, melalui salah satu agensinya Badan Penjamin Investasi Multilateral (Multilateral Investment Guarantee Agency), pada awal tahun 2000an, juga memperlihatkan minat dalam bisnis pulp-kertas. Mereka berniat untuk menyediakan dukungan asuransi bisnis kepada United Fiber System (UFS), yang berencana untuk mendirikan pabrik raksasa pulp-kertas di Provinsi Kalimantan Selatan. Projek ini, bagaimanapun, tidak pernah terealisasikan hingga kini bersebab kuatnya gelombang penolakan dari organisasi masyarakat sipil.
Kekalahan Nyata Para "Naga Kertas"
Naga mungkin, dengan segenap priviles yang mereka punyai, tidak selalu bermakna kebertahanan abadi dalam dunia bisnis. Pada 1997, ketika Indonesia terdampak arus krisis ekonomi global, Para Naga juga mengalami kerugian hebat. Grup Radja Garuda misalnya, terlilit hutang senilai US $ 1,4 miliar, lalu APP juga memiliki hutang sebesar US $ 1,2 miliar. Namun, mereka terlampau besar untuk bangkrut dalam industri kayu ini.
Kebanyakan pada naga telah mendirikan Bank di bawah control mereka. Grup sinar Mas mendirikan Bank Internasional Indonesia (BII), Grup Radja Garuda Mas mengendalikan Bank Uni dan Kalimanis Bank memiliki Bank Umum Nasioal (BUN). Semua bank ini pada akhirnya bangkrut dan memperparah kontraksi ekonomi negara. Untuk menyelesaikan hal ini, pemerintahan Indonesia menyediakan fasilitas perbankan dikenal dengan istilah Bantuan Likuiditas Bank Indonesia (BLBI), yang menggelontorkan dana sebesar 144,54 triliun Rupiah.
Fasilitas tersebut, bagaimanapun, tidak berdaya dalam menyelamatkan Bank-bank para naga, dan bahkan pada level tertentu menyebabkan kredit macet dalam jumlah besar, ketika perusahaan-perusahaan raksasa ini menyalurkan bantuan ke perusahaan mereka sendiri. Sebesar 28 triliun rupiah dari kredit macet bersal dari raksasa kehutanan ini.
Bagaimanapun, situasi ini tidak berlangsung lama. Selama kurun waktu tiga tahun kemudian, Para naga bangkit kembali, dengan kekuatan ekonomi yang lebih gila. Bursa Efek Jakarta (BEJ) menyampaikan bahwa sebelum krisis ekonomi, para raksasa ekonomi ini mengendalikan asset-aset eknomi nasional, tapi setelah krisis berakhir, cengkraman mereka jauh lebih besar daripada sebelumnya, yakni sebesar 52%. Krisis ekonomi yang muncul seturut dengan transisi politik, ternyata tidak cukup kuat untuk menjungkirbalikkan kekuatan ekonomi para naga kertas ini. Tidak hanya bersebab aset mereka yang terus berlipat ganda, Kementerian Kehutanan juga amat yakin bahwa sektor perkebunan kayu ini juga amat kuat dan cukup menjanjikan dalam bisnis kehutanan. Hal ini, pada gilirannya, merangsang pemerintah agar menebitkan dukungan kebijakan untuk kepentingan ekspansi industri kayu setelah krisis ekonomi.
Keperkasaan 'Naga-Naga lama' dan Kemunculan 'Naga-Naga' baru.
Krisis ekonomi 1997-1998, yang juga berpengaruh terhadap sektor kehutanan, mendongkrak kepercayaan para birokrat kehutanan bahwa sector HTI cukup kokoh, kuat dan prospektif. Sejak awal 2000-an, Kementerian kehutanan telah berkeinginan kuat untuk mempercepat laju pertumbuhan sektor ini dengan mempromosikan peningkatan kualitas tanaman, ,memperluas konsesi, dan mengundang investasi di sekujur huli-hilir industri kehutanan, sembari meningkatkan kapasitas pabrik. Hak Pengusahaan Hutan (HPH) telah beralih menjadi Hutan tanaman Industri (HTI) melalui skema lelang dan transfer manajemen. Pabrik baru akan dibangun dan kapasitas pabrik lama akan ditingkatkan seiring dengan pertumbuhan sektor ini
Sinar Mas Grup (SMG), melalaui divisi kehutanan Sinar Mas Forestry (SMF), telah berkembang secara massif. Di Provinsi Jambi misalnya, SMF telah memperluas konsesi perusahaan lokal PT Wira Karya Sakti (PT WKS) sebesar 60.000 hektar. Selain itu, perusahaan ini juga berafiliasi dengan PT Rimban Hutani Mas (PT RHM) dan PT Tebo Multi Agro (PT TMA), sehingga memberikan kendali pada SMF untuk berkuasa atas total 360.000 hektar konsesi di Provinsi Jambi.
Tidak hanya Jambi, SMF juga memperluas konsesinya di Provinsi Kaltim dan Kalbar. Di Kalbar, mereka mengambil alih PT Finnantara Intiga, dan PT Surya Hutani Jaya, sedang PT ITCI dan PT Balikpapan Forest Industri di Kalimantan Timur. Di Provinsi Sumatra Selatan, mereka juga melakukan ekspansi secara besar-besaran, terhitung saat ini saja, mereka telah menguasai total 5 konsesi ; PT Bumi Mekar Hijau (PT BMH), PT Sebangun Bumi Andalas (Kayu SBA), PT Bumi Andalas Permai (PT BAP), PT Bumi Persada Permai PT BPP) dan PT Rimba Hutani Mas (PT RHM). Dengan laju perluasan yang demikian kencang, SMF telah menasbihkan dirinya sebagai naga di Industri Kayu dengan luasan konsesi mencapai 1 juta hektar.
Sinar Mas Grup, melalui divisi pulp dan kertasnya – Asia Pulp and Paper (APP), membangkitkan kekacauan pada medio 2012, saat mereka menyatakan rencana pendirian pabrik pulp-lertas di Kabupaten OKI, Provinsi Sumatra Selatan. Di bawah nama PT OKI Pulp-Kertas, Pabrik ini dirancang untuk memproduksi 2 juta ton pulp pertahunnya. Investasi awal bahkan mencapai 3 Juta Dollar AS. Menurut Badan Koordinasi Penanaman Modal Indonesia, seluruh kapital perusahaan berasal dari sumber-sumber asing, yaitu 99% dari PT Muba Green Indonesia (Singapura) dan 1% dari Green Unity Holding Pte, Ltd (Singapura).
Grup Radja Garuda Mas (RGM Grup) tidak pernah tinggal diam ; tidak hanya telah mempeluas konsesi, mereka telah mengembangkan kemitraan dengan perusahaan lokal untuk menjamin pasokan bahan baku. PT Sumatera Sylva Lestari (PT SSL) adalah satu dari sekian perusahaan lokal yang menjalin kerja sama dengan mereka.
Selain dua naga raksasa di sektor industri kayu, ada naga-naga lain di sector ini ; yang sedang bangkit kembali maupun pendatang baru. Anak perusahaan Grup Korindo, PT Korintiga Hutani, mengusai lebih dari 95.000 hektar dari konsesi perkebunan kayu di dua kabupaten di Provinsi Kalimantan Tengah. Di Provinsi Jambi, Grup Barito Pasifik telah mengaktifkan kembali perusahaan kayunya dengan nama baru, yaitu.PT LAJ. Kelompok AMS. Grup AMS, yang tidak berpengalaman dalam bisnis kehutanan, telah menanam sejumlah investasi di sektor industri kayu di bawah naungan PT AAS (Agronusa Alam Sejahtera). PT AAS tidak memproduksi pulp dan kertas, melainkan bahan baku furniture untuk kepentingan ekspor.
Di bagian timur Indonesia, Industri kayu sangat massif berekspansi dibawah bendera Grup Medco, sebuah perusahaan berbasis energi. Melalui program nasional bernama Merauke Integrated Food and Energy Estate (MIFEE), Medco bekerja sama dengan koporasi asal Korsel untuk mengembangkan Bahan baku energi alternative berbasis industri dikenal dengan 'Pellets', yang terbuat dari serutan kayu terkompresi (dari hutan kayu). Apakah pellets digunakan untuk mengganti bahan bakar fosil? (Lihat Buletin WRM 186 tentang dampak penggunaan biomassa untuk produksi energi).
Sampai saat ini, terlihat bahwa ekspansi sektor perkebunan kayu dengan segenap industri hilirnya telah didukung secara massif oleh kebijakan Indonesia, pasar global dan korporasi internasional. Sektor ini telah terintegrasi tidak hanya dengan industri pulp dan kertas tapi juga dengan industri energi non- fossil dan karbon. Situasi ini akan membuka banyak ruang bagi perusahaan untuk terlibat dalam sektor perkebunan kayu dalam rangka menyokong kecendrungan konsumsi global, melalui penghancuran desa-desa setempat.
Oleh Rivani Noor, Direktur Eksekutif CAPPA – Keadilan ekolos, juga merupakan anggota pendiri dari Yayasan SETARA – Jambi dan dan Kelompok Kerja Indonesia Yayasan Siemenpuu-Finlandia, email: rivani@cappa.or.id