Certifying oil palm company Socapalm despite evident abuses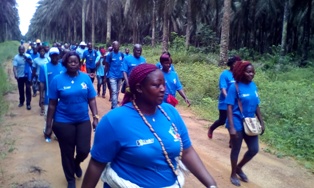 The sixth and latest issue of the magazine "Trait d'Union", a trimestral magazine and liaison of the associations of populations surrounded by oil palm plantations from SOCAPALM, workers' unions and oil palm planters, was released. The magazine shares over 15 relevant articles highlighting different aspects of the struggles surrounding these oil palm plantations in Cameroon. This time, we want to emphasize two articles:
* Violation of rural women's rights living around agro-industry companies: the end of the taboo?, which stresses the many challenges and abuses women have to undergo not only due to the company's land grab and their loss of livelihoods but also due to the physical and sexual violence employed by the plantation company's security forces.
* Socapalm, a contested ISO 14001 certification!, which explains in detail the reasons why the oil palm company should not have received in 2017 a renovation of this certification. Used for cleaning its image, the renewal of the certification has not taken into account the many offences and violations the company does to the local populations and the environment. Download the magazine (in French) here: http://www.palmespoir.org/index.php/telechargements/category/2-trait-d-union-mag-archives
Search
WRM
WRM Bulletin
Subscribe
WRM ISSUES
Publications
Browse
Twitter
Facebook