India: stop evictions from tiger reserves!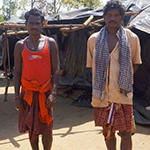 India: stop evictions from tiger reserves!
Hundreds of Baiga people rallied on March 2018 to oppose the authorities' attempts to evict them from the forests that they have lived in and managed since time immemorial. Joining forces from over 70 different villages, the protests were sparked by official efforts to evict two Baiga communities from a wildlife 'corridor'. The Baiga are particularly worried by two upcoming evictions, as both state authorities and the World Wildlife Fund (WWF) promised that evictions would not take place in the 'corridor' areas, which run between the protected nature reserves. However, Baiga people report threats, intimidation and violence until they have no choice but to leave their homes. These evictions are illegal under Indian and international law. Demand the Minister responsible to uphold the law and stop all evictions that don't have the free, prior and informed consent of the tribal communities concerned. You can send him an email here.
Search
WRM
WRM Bulletin
Subscribe
WRM ISSUES
Publications
Browse
Twitter
Facebook