Leave fossil fuels in the ground! A call for an "Annex 0" group, supported up by the Shuar Nationality of Pastaza in Ecuador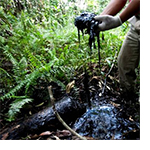 The Oilwatch network has issued an international call for creating an "Annex 0" group at the UN climate negotiations. This would mean a group of peoples or nations acknowledged for their contributions to prevent further climatic changes, for example, with the commitment of leaving fossil fuels in the ground. Initiatives under "Annex 0" include, among others, the rejection of mechanisms such as carbon markets, REDD+, and other false solutions against climate change. The Shuar Nation of Pastaza, in the community of Tsurakú, Ecuador, decided in October 2015 to sign up to this call, hoping that many other peoples and nations will follow. The Shuar maintain territorial control of 443,000 hectares of forests, which since 1975, are under constant threat from oil companies and the Ecuadorian Government.
Read the decision of the Shuar here. And read Oilwatch's call for the creation of an "Annex 0" group here.
Search
WRM
WRM Bulletin
Subscribe
WRM ISSUES
Publications
Browse
Twitter
Facebook