Why Russia's indigenous people are wary of national parks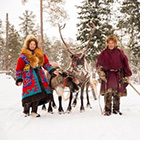 Russia's Numto Nature Reserve in western Siberia contains a sacred lake, endangered cranes and valuable wetlands for the indigenous Nenet and Khanty peoples. Last year, the nature reserve's borders were redrawn by the regional government to make way for new drilling operations for the Russian oil company Surgutneftegas, forcing out indigenous groups. While Natural resources minister Sergei Donskoi recently projected a 22 per cent increase of protected areas, particularly national parks, by 2025, Indigenous Peoples worry about possible prohibitions to continue their hunting and fishing traditions.
Read more (in English) here.
Search
WRM
WRM Bulletin
Subscribe
WRM ISSUES
Publications
Browse
Twitter
Facebook