Trade in Ecosystem Services. When payment for environmental services delivers a permit to destroy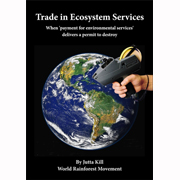 The payment and trade of 'environmental services' is a trend promoted by the financial sector, the multilateral banks, conservationist organizations, governments and other institutions under the false argument that calculating the monetary value (or price) of natural functions like water purification, storage of carbon in vegetation and soils, the scenic beauty or biological diversity of a place will somehow help conserve Nature. This new advance of capital seeks to make visible for financial markets new aspects of Nature not yet dominated by capital.
This new publication looks at the concept of 'Payment for Environmental Services' in its current cloths; examines some of the claims made by those who argue that putting a price on Nature is the only way to save Nature; shows who some of the actors are, and what motivates their interest in PES. Above all, the briefing is a contribution to documenting how this latest version of the PES theory is playing out on the ground, in the territories that forest communities depend on for their livelihood and way of life.
It can be read or downloaded here: "Trade in Ecosystem Services. When payment for environmental services delivers a permit to destroy"
Search
WRM
WRM Bulletin
Subscribe
WRM ISSUES
Publications
Browse
Twitter
Facebook