International Condemnation: Honduras – End the violence and death against the peasant-indigenous movement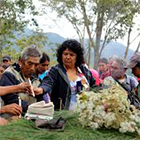 La Vía Campesina denounces the grave criminalization taking place in Honduras today in the form of prisons, repression and the assassination of peasant and indigenous leaders. In the last few weeks the situation has worsened greatly with the proliferation of hired assassins aiming to take the lives of those who demand land to produce food, of those who struggle against extractivism, dams, and agribusiness. La Via asks for all those concerned with human rights and justice to articulate public acts of solidarity at Honduran embassies around the world.
To make these actions known write to viacampesina@viacampesina.org and, in Honduras, contact the offices of La Vía Campesina in Tegucigalpa by emailing viacampesinahonduras2015@gmail.com. Members of the press and allies should contact: Rafael Alegría, 00504 9969-5091, office 00504 2235-9915 and Wendy Cruz 00504 9983-8506.
See full text at: http://viacampesina.org/en/index.php/main-issues-mainmenu-27/
human-rights-mainmenu-40/2000-international-condemnation-honduras-end-the
-violence-and-death-against-the-peasant-indigenous-movement
The NGO International Rivers has also set a petition to demand that international dam builders and financiers immediately pull out of the Agua Zarca dam project, and not get involved in any other projects on indigenous Lenca lands in Honduras. Sign the petition here:
http://www.internationalrivers.org/node/11239And you can still join the international support to activist Gustavo Castro, coordinator of Friends of the Earth Mexico and Otros Mundos Chiapas, who was the sole witness of the March 2nd assassination in Honduras of social movement indigenous leader Berta Cáceres. He is refused the right to return to his home country, Mexico. Sign the petition (in Spanish) here: http://movimientom4.org/2016/03/firma
-para-solicitar-el-regreso-de-gustavo-castro-soto-a-mexico/
Search
WRM
WRM Bulletin
Subscribe
WRM ISSUES
Publications
Browse
Twitter
Facebook