United Nations' 2015 International Day of Forests. Theme: "Forests / Climate / Change". What change?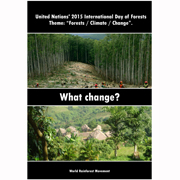 Download as pdf here.
The aim of this document is to respond to this year's campaign for March 21 carried out by the Food and Agriculture Organization of the United Nations (FAO). In a very short video, FAO highlights forests' capacity to trap CO2 and suggests: "Sustainably managed forests are the frontline against climate change."
We argue that the supposed solutions that FAO has supported and promoted over the past 20 to 30 years have not reduced deforestation; far less have they effectively contained the climate crisis. These failed proposals are "Sustainable Forest Management", "REDD+" and "Zero Deforestation" which is included in the recent New York Declaration on Forests. Without challenging the globalized model of production and consumption for the benefit of the few, these proposals have further strengthened corporate power, and have created an industry of "consulting firms" to "certify" which forests and monoculture tree plantations are "sustainable". Moreover, there are covert links between "zero deforestation" commitments among REDD+ projects and trade in other "ecosystem services," on the one hand, and the advance of destructive industries such as oil extraction, large-scale monoculture plantations, mineral extraction, hydroelectric plants, etc., on the other. We conclude that the "Change" mentioned by FAO as part of its theme for March 21 does not represent any real change at all.
Search
WRM
WRM Bulletin
Subscribe
WRM ISSUES
Publications
Browse
Twitter
Facebook