Exploitation and Empty Promises. Wilmar's Nigerian land grab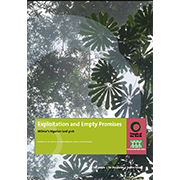 By Friends of the Earth US, Environmental Rights Action, Nigeria.
Wilmar International1 is one of the world's largest palm oil plantation owners, traders, and processing companies. Wilmar is a member of the Roundtable on Sustainable Palm Oil, and was among the first global palm oil traders to adopt a comprehensive No Deforestation, No Peat, No Exploitation policy2 to eliminate all forest destruction and human rights abuse from its supply chain. But Friends of the Earth's report, Exploitation and empty promises: Wilmar's Nigerian landgrab reveals that Wilmar's recent acquisition of 30,000 hectares of land in Cross River State, Nigeria has left local people destitute, and threatens protected forest areas that are home to some of Africa's greatest biodiversity.
Download a summary for policy makers at:
http://webiva-downton.s3.amazonaws.com/877/f7/4/6087/Nigeria_report_summary-lowres.pdf
or download the full report at:
High-resolution: https://www.dropbox.com/s/urxw7wfz4mnqkv3/FOE_ ExploitationAndEmpty_HIRES_rev.pdf?dl=0
Low-resolution: http://webiva-downton.s3.amazonaws.com/877/22/9/6057/FOE_ ExploitationAndEmpty_LOWRES_rev.pdf