GE Trees, Cellulosic Ethanol & Destruction of Forest Biological Diversity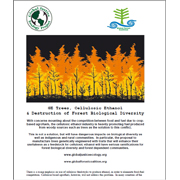 Solo disponible en inglés – 
By Global Justice Ecology Project and Global Forest Coalition – February 2008.
With concerns mounting about the competition between food and fuel due to cropbased agrofuels, the cellulosic ethanol industry is heavily promoting fuel produced from woody sources such as trees as the solution to this conflict.
This is not a solution, but will have dangerous impacts on biological diversity as well as indigenous and rural communities. In particular, the proposal to manufacture trees genetically engineered with traits that will enhance their usefulness as a feedstock for cellulosic ethanol will have serious ramifications for forest biological diversity and forest dependent communities.
Download the full document here: GE Trees, Cellulosic Ethanol & Destruction of Forest Biological Diversity